With the advent of various desserts and delicacies, many people want to try homemade food. Like cakes, candies, jellies, etc. So as gelatin wholesaler, here is introduce the role of gelatin for mousse.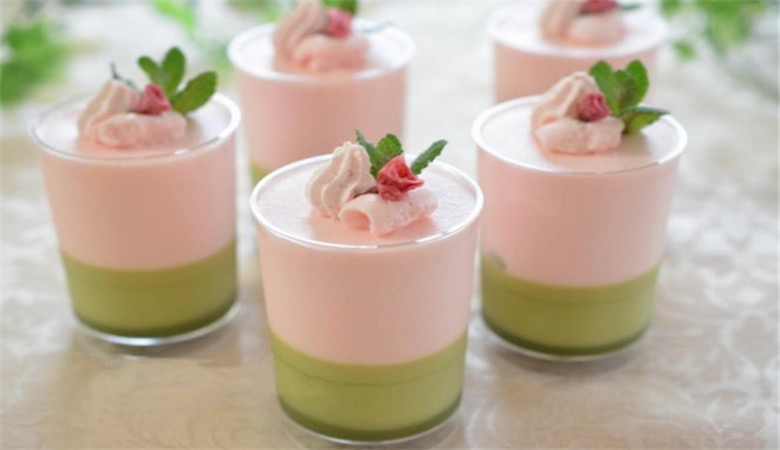 The role of gelatin for mousse in food
Edible gelatin is also widely used as a whipping agent. Its single use is more convenient and simpler than the mixed use of egg white and milk protein, so it is often used in production. Vigorous stirring of edible gelatin can produce a lot of foam. Moreover, these foams can remain uncombined and unbroken for a long time, so it is a good food foaming agent and can be used to make marshmallows.
One of the role of gelatin for mousse is that edible gelatin can also be used as an adhesive. In confectionery or pastry production, the bonding impact of edible gelatin can be used to make layers of confectionery or cakes. The high-transparency edible gelatin can also wrap various candies or cakes into all kinds of shapes. Just like wearing a layer of translucent clothes, you can also cover the outside with a layer of sugar as needed.
The role of gelatin for make cherry blossom matcha mousse
1. First, we should make matcha pudding. Stir the matcha powder and 10g of fine sugar, add hot milk, stir and heat in the microwave for 10 seconds.
2. Melt the powdered gelatin with a little water, heat it in the microwave for 20 seconds, mix it with the matcha milk, and put it in the refrigerator for about 1 hour. The role of gelatin for mousse here is thicken.
3. Then, we make cherry milk foam. Mix 50g whipped cream and 10g fine sugar to make milk foam.
4. After mixing the cherry blossom latte powder and 100g milk thoroughly, add it to the anti-foaming and stir evenly
5.Gradually add a small amount of egg whites to the cherry milk foam and beat well
6. Put it on the matcha pudding and put it in the refrigerator for 1 hour to solidify, then you can enjoy the cherry blossom mousse.
About us
The above is a brief introduction to the role of gelatin for mousse. Not only are we one of the best gelatin suppliers in China, we are also collagen and pectin manufacturers. If you want to buy it or want to know more product information, please feel free to contact us.